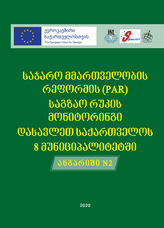 "Public Administration Reform (PAR) Roadmap Monitoring in 8 municipalities of Western Georgia" is a new publication, the second report prepared by the the Fund "Sukhumi" in partnership with Imereti Scientists' Union "Spectri" and the Fund of Women Entrepreneurs. As a result of the monitoring, an assessment of local self-government in terms of efficiency, transparency and inclusiveness was carried out in Khoni, Bagdati, Terjola, Vani, Ozurgeti, Lanchkhuti, Tsageri and Ambrolauri municipalities.
The second report shows the progress in implementing the recommendations developed to correct the gaps identified after the first monitoring, and presents new recommendations for achieving better quality e-services in local municipalities.
The work is carried out in the framework of the project "A common forum for CSOs from Guria, Imereti and Racha-Lechkhumi for PAR Roadmap monitoring".

The project is implemented with the support the European Union - #EU4Georgia