Within the framework of the project "A common forum for CSOs from Guria, Imereti and Racha-Lechkhumi for PAR Roadmap monitoring", Imereti Scientists' Union "Spectri" held another consultative meeting with the representatives of Guria Civil Society Organizations involved in the project.
Representatives of Lanchkhuti Information Center and the Georgian Rural Hall (Lanchkhuti), the Center for Education and Equality and the Young Teachers' Union (Ozurgeti) took an active part in the meeting.
The meeting discussed such issues as duration of the needs' research in implementation of a roadmap for Public Administration Reform in Ozurgeti and Lanchkhuti municipalities and the process of preparation of project proposals for the grant competition. It should be noted that in both municipalities, the needs/research of various target groups is being successfully implemented. The process is coming to an end and its results will be announced in the near future.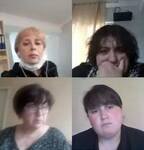 The project is implemented with the support the European Union - #EU4Georgia