Representatives of Union of Scientists of the Imereti - "Spectri" held the first internet - meeting with a representative of the Young Teachers' Union - Tamar Oniani in the framework of the project A common forum for CSOs from Guria, Imereti and Racha-Lechkhumi for PAR Roadmap monitoring".
During the online meeting, issues related to organizing a quantitative survey with the aim of identifying the needs for implementation of the public administration reform roadmap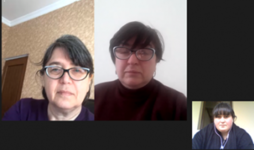 in Ozurgeti municipality, were discussed. It should be noted that the project envisages to conduct the survey of at least 150 respondents. Due to the situation regarding COVID-19 in the country, the partner organization in Ozurgeti will mainly use Google Drive capabilities, but in case of necessity, the phone calls can also be made. In accordance with the demands of emergency situation, project partners stay homeand continue to work to through various communication tools in order to achieve their goals.
The project is implemented with the support the European Union - #EU4Georgia